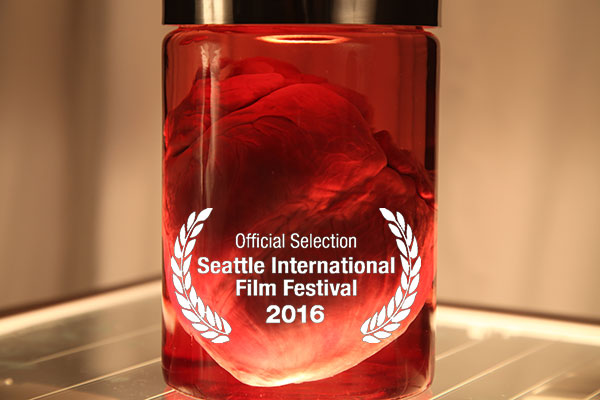 Human Heart [Overture] (2015)
Experimental Digital Film for Electro-Baroque Audio Suite
(Director • Cinematographer • Editor)
S Y N O P S I S
If home is where the heart is, our post-industrial economy has left many of us bereft, to sift through the detritus of the American Dream.   Collaboration with Audio Composer
Michael Austin, Ph.D.
, Assistant Professor of Media, Journalism, and Film, Howard University.   As a filmmaker with family roots in Detroit, Michigan, this film is inspired by the plight of many great cities in the aftermath of the Industrial Revolution. It combines public domain footage with original photography to form a curious collection of pulsating fragments entering into conversation with the image of a human heart—that may still be beating—sealed in a jar. If home is where the heart is, this film suggests that our post-industrial economy has left many of us behind, longing for an American Dream that no longer exists.   The musical overture is composed in the French Baroque style (two complimentary sections—slow, dotted section with faster, fugal section following), and is part of a
larger audio suite entitled

THE CABINET OF CURIOSITIES

, created by sound artist Michael Austin, based on the Baroque dance suite.
  The Cabinet of Curiosities, or Kunstkammer, was a mysterious collection of odd relics that the well-to-do of Renaissance Europe found to be thought provoking; these cabinets were the precursors of museums. This overture and the other movements of this Electro-Baroque Audio Suite evoke the peculiar and bizarre nature of these collections.   In the same spirit of curation, the video and audio strategy for this film reflects a curious collection of fragments culled from various sources. Juxtaposing this found sound and footage with original photography and audio composition, the film is intended to generate potential for thought provoking new meaning.     Original footage shot on Canon 5D Mark II. Audio design using Logic, Soundtrack Pro, and GarageBand.    
E X H I B I T I O N   R E C O R D
2016 Kalamazoo Institute of Arts Film Series
Kalamazoo, MI
–Recent Work (August 11, 2016)
2016 Seattle International Film Festival
Seattle, WA—Official Selection
2015 University Film & Video Association Annual Conference
Washington, DC–Work in Progress Screening (August 6, 2015)
Official Selection SIFF
C R E D I T S
g e n r e / c a t e g o r y :  Experimental Film, Avant-Garde, Audio Composition
c o l l a b o r a t i o n   b y :  Kelly Wittenberg and Michael Austin
d i r e c t o r   o f   p h o t o g r a p h y :  Kelly Wittenberg
s o u n d   d e s i g n :  Michael Austin
p r o d u c t i o n   a s s i s t a n c e :  George Arnold, Tiffany Palmer (Tap), and
Deborah Weems
v i d e o   e d i t i n g :  Kelly Wittenberg
o r i g i n a l   f o o t a g e :  Kelly Wittenberg
o r i g i n a l   c o m p o s i t i o n :  Michael Austin
p r e l i n g e r   a r c h i v e s   p u b l i c   d o m a i n :
When You Grow Up
FilmsWest, Inc., 1973
Give Yourself the Green Light
Handy (Jam) Organization, 1954
Home Movies: Aruba
Henry Charles Fleischer, 1972
Home Movie 98344: Child's Birthday and Santa Barbara
Unknown, 1939
Home Movie 97483: St. Louis Area Family, Reel 15
Unknown, 1967
Home Movies: Happy Birthday to Doris
Unknown, 1935
Oil Today – Power Tomorrow
Frith Films, 1950
Pick of the Pod
Palmer (W.A.) & Company, 1939
The Battery, Ignition and Electrical Systems
Division of Visual Aids U.S. Office of Education and Federal Security Agency, 1945
According to Plan: The Story of Modern Sidewalls for the Homes of America
Handy (Jam) Organization, 1952
Signs of Life
Progressive Pictures, circa 1950s
The Big Delivery Wagon
Fairbanks (Jerry) Productions, 1951
A Mark of Wholesome Meat
U.S. Dept. of Agriculture, Motion Picture Service, 1964
Free Air
Handy (Jam) Organization, 1937
y o u t u b e   c r e a t i v e   c o m m o n s :
World's Longest Slide Ever
Amusement Force
https://www.youtube.com/watch?v=-HrhrX1O8Ts
Breathing and Circulation
mckeckles
https://www.youtube.com/watch?v=w1YVysz32Kw
Driving Commonwealth Street, Detroit, MI 48208
ddatch54
https://www.youtube.com/watch?v=tUkAL3iE7ZA
Driving through BEVERLY HILLS, Los Angeles, California (HD)
Kauko Helavuo
https://www.youtube.com/watch?v=rVM0v3wgiAM
Calgary Real Estate Property Video – 162 Somme Ave SW
Sona Visual Photos and Videos
https://www.youtube.com/watch?v=ZI_VWGp2N68
DEL Side Belt Overcapper w/ Rotary Cap Feeder
DEL Pack
https://www.youtube.com/watch?v=InIyBKTxS-s
Lava Lamp
StasherDragon
https://www.youtube.com/watch?v=Q8xwkrd2Wa4
Automatic Honey Filling and Capping
Npack Victor
https://www.youtube.com/watch?v=LTZbWLzV7lk
Calgary Real Estate Tour – 234 Diamond Court SE
Sona Visual Photos and Videos
https://www.youtube.com/watch?v=csoQffujcck
Heart Cath 4
wreckrecovery71535
https://www.youtube.com/watch?v=z-5no0ReN5I
t o t a l   r u n n i n g   t i m e :  4:20 minutes