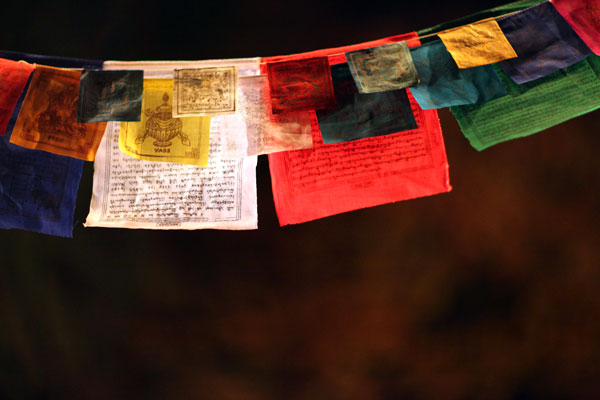 Wind Horse (2016)
Experimental Digital Film
(Writer • Director • Cinematographer • Editor)
S Y N O P S I S
The
Wind Horse
, or
Lungta
, is an ancient mythical figure in Tibetan culture, combining the speed of the wind and the strength of the horse to carry prayers from earth to heaven. Symbolizing aspects of an enlightened mind rather than a literal animal, the 
Wind Horse
is often depicted bearing the Three Jewels in which those seeking enlightenment take refuge:
Buddha
(the awakened one),
Dharma
(the teachings), and
Sangha
(the community of those seeking enlightenment).   The 
Wind Horse
symbol often appears in the center of multi-colored prayer flags hung outside the home. Inscribed with auspicious symbols, prayers, and mantras, prayer flags are thought to bring happiness, long life, and prosperity by moving in the wind, generating a natural positive energy. The five traditional colors of the flags represent the five elements: yellow = earth, green = water, red = fire, white = air, and blue = space. Combined with the Four Dignities,
the Garuda
(freedom from hopes and fears),
the Dragon
(mind beyond ego),
the Snow Lion
(fearless joy), and
the Tiger
(unconditional confidence), prayer flags also represent a mindfulness to spiritual teachings.   The 
Wind Horse
embodies the uplifting life-force energies of good fortune and things that go well. Raising the 
Wind Horse
prayer flag is one of the best ways to avoid obstacles and boost one's lungta energy to bring good fortune.   Original footage shot on Canon 5D Mark II and Bolex 16mm, with found footage.   Audio clip from
WindHorse
, courtesy of
Linda Antas, DMA
, Associate Professor of Music, Montana State University.
E X H I B I T I O N   R E C O R D
2016 Kalamazoo Institute of Arts Film Series
Kalamazoo, MI
–Recent Work (August 11, 2016)
2016 University Film & Video Association Annual Conference
Henderson, NV –Work in Progress Screening (August 2, 2016)
Prayer Flag with Wind Horse Symbol
C R E D I T S
g e n r e / c a t e g o r y :  Experimental, Art, Animation, Live Action, Short
w r i t t e n   a n d   d i r e c t e d   b y :  Kelly Wittenberg
o r i g i n a l l y   s h o t   o n :  Canon 5D Mark II (Digital); Bolex 16mm (Film)
a n i m a t i o n   c o n s u l t a n t :  Jim Middleton
a r t / d e s i g n / c o n s t r u c t i o n :  Kelly Wittenberg
d i r e c t o r   o f   p h o t o g r a p h y :  Kelly Wittenberg
a u d i o   c l i p :  Linda Antas
e d i t i n g :  Kelly Wittenberg
t o t a l   r u n n i n g   t i m e :  4 minutes
Ready for the Wind